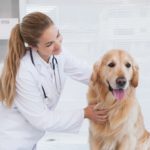 Excessive amounts of uric acid in the bloodstream are not limited to only humans.  Gout can affect our loving canine and feline friends, as well.  Whereas humans are more likely to experience crystal deposits in the joint extremities, animals tend to grow uric acid crystals in their urine.  When animals are unable to assimilate calcium and other minerals, abnormal uric acid and calcium levels can also deposit into the paws, toes, elbows, neck, ears, and tongue.  This is know as calcified skin lesions, or Casinosis Cutis, and more common in breeds such as Boxers and Boston Terriers.  Calcium "Gout" can also create a chalky liquid that can ooze from the paws.
Gout can affects both cats and dogs, however, some breeds are more commonly predisposed by genetics.  These breeds include Dalmations, German Shepherds, English Pointers, Rottie's, Labs, and Irish Wolfhounds.
Dalmations are unable to convert uric acid into allantoin.  The liver cells are unable to absorb uric acid further blocking the ability to excrete it through the urine.  This makes the breed highly susceptible to stone formations.
Canine gout symptoms include the chalky liquid oozing from lesions, bloody urine, lumps in the paws, bleeding of the paws, painful walk/gait, stiff and painful joints, mood and behavioral changes, lethargy, gritty urine, and/or frequent urinations in small amounts, and lumps on the neck.
Canine Gout is also linked to hip dysplasia and most commonly found in this form amongst German Shepherds.
These conditions are typically treated much like humans, with the same basic prescription drug approach that present themselves with a host of dangerous side effects.   Typically canines are treated with Allopurinol just like their human companions and suffer the same fate of effects that include cramping, vomiting, and diarrhea.  Sometimes Colchicine is prescribed, but must be specific for an animal as the human's version is deadly.
There are ways to treat both human and animal inflammatory conditions safely and naturally.  Aside from better dietary options, herbal nutrition can help support and rebuild the very functions of the body that are misfiring and causing these issues.  Improving cellular health, blood flow, urine output, and enhancing both kidney and liver function can be done with the right combination of herbs.  This approach can greatly improve, even eliminate, these uric acid and calcium build ups.  There are some wonderful, all natural anti-inflammatories on the market that include just the right combination of herbs to attack these imbalances once and for all.  We've heard of great success treating both humans and animals the same with herbal combinations.  The only thing you need to be good at is tricking your furry companion into swallowing a capsule.  Easy peasy!
Please follow and like us: