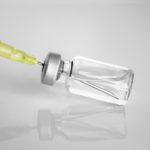 According to the latest CARES trial, the Gout drug Febuxostat (Uloric) failed up against Allopurinol when it came down to a combined rate of fatal and nonfatal adverse events for those that suffer with both Gout and Cardiovascular disease.  In fact, there was a significant increased risk of death for those that took this drug for Gout while also suffering from heart disease.
The trial was mandated by the FDA and consisted of 6,190 patients, 84% of which were men.  Cardiovascular risk is naturally increased in patients with Gout.  The study was attempting to look at any difference in outcome for these patients taking Febuxostat, a nonpurine xanthine oxidase inhibitor, or those taking Allopurinol, a purine base analogue xanthine oxidase inhibitor.  The patients were followed for a median of 32 months, and a maximum of 85 months.  Without diving into all of the ratio statistics, the all-cause and cardiovascular mortality rate was higher in the Febuxostat group, 34% and 22% higher respectively.
Xanthine oxidase inhibitors are designed to block the enzyme that helps your body make uric acid from xanthine.  This sounds great in theory, but begs the question, where do the purines go when they are halted from this natural conversion?  We do know purines can be stored in the fat, but where else might they go?  Although this hasn't been theoretically proven, it is very common for the liver to become 'fatty' while taking this type of drug.  Could those newly developed storages be the "lost" purines?
Common side effects of taking Febuxostat include:
nausea
joint pain
rash
inaccurate liver function test results
gout flare ups
Call your doctor if these continue or are bothersome:
Red, hot flush to face or skin
Call your doctor right away if these occur:
Allergic reactions like skin rash, itching or hives, swelling of the face, lips, or tongue
Breathing problems
Changes in vision
Chest pain
Confusion, trouble speaking or understanding
Dizziness
Fast, irregular heartbeat
Feeling faint or lightheaded, falls
Gout pain
Muscle aches or pains
Severe headaches
Sudden numbness or weakness of the face, arm or leg
Trouble walking, dizziness, loss of balance or coordination
Unusually weak or tired
Yellowing of the eyes or skin
More serious complications can occur.  As noted above, cardiovascular risks are increased.  In addition to those risks, liver injury is also very possible.  If you have to resort to trying this drug, be sure to have your physician check your liver function before you begin and monitor thereafter.  It is important to know the symptoms and get help immediately.  These warning signs include:
Liver injury. Symptoms can include:

tiredness
lack of appetite
unexplained weight loss
discomfort in the upper right part of your abdomen
dark urine
jaundice (yellowing of your skin or the whites of your eyes)

Heart attack. Symptoms can include:

chest pain
shortness of breath
discomfort in your upper body
cold sweats
nausea
vomiting
sudden dizziness
sudden, unexplained tiredness

Stroke. Symptoms can include:

weakness or numbness in one part or side of your body
slurred speech
sudden confusion
trouble seeing in one or both of your eyes
sudden trouble walking, dizziness, or loss of balance or coordination
sudden and unexplainable severe headache
Source: http://www.acc.org/latest-in-cardiology/articles/2018/03/07/15/53/mon-8am-cares-cv-safety-of-febuxostat-and-allopurinol-in-patients-with-gout-and-cv-comorbidities-acc-2018